Quickly find strong, aged domains for your PBN and other projects
Looking for strong, aged domains for your PBN (Private Blog Network) or even a new project? We've got you covered!
Our Aged Domain Finder sources data from multiple domain platforms, including GoDaddy Auctions, SnapNames, and NameJet.
Discovering expired or expiring domains is only the first step. Checking their metrics, however, can be very time-consuming, but not with Aged Domain Finder.
Proper research with our tool eliminates the risk of buying poor quality domains that may lose value soon after your purchase.
Aged Domain Finder connects to:
GoDaddy Auctions
NameJet
SnapNames
Name.com
Dynadot
Sedo
Droplists
Pheenix
Fabulous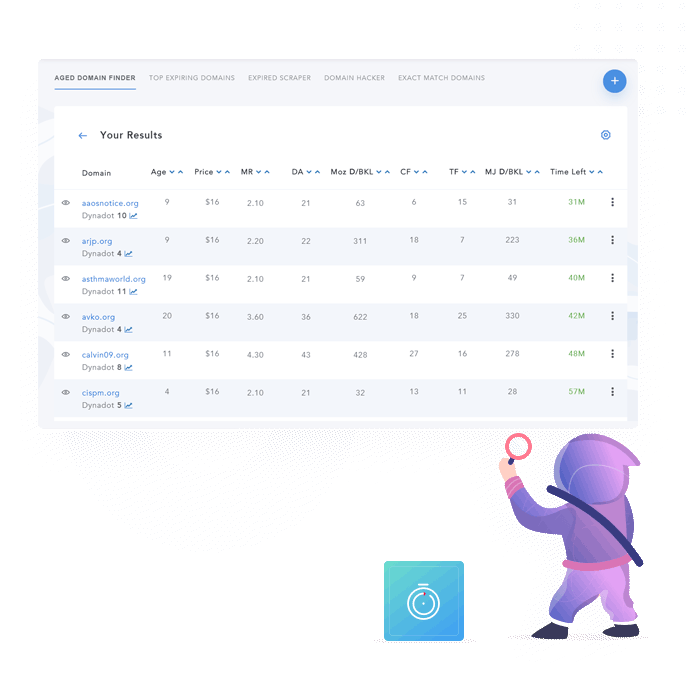 Aged Domain Finder shows Moz and Majestic metrics for each discovered domain as well as its age, current price, inbound links and more.
To explore even more metrics such as Trust Ratio, backlink quality and more you can send the domain to Site Explorer with one click.
Aged Domain Finder is one of the best aged domain solutions on the market. You will be able to find, analyze and acquire the strongest aged domains available for sale in any niche in a few minutes.
Be the first to discover the best aged domains for sale
Get the top expiring domains in your niche before anyone else.
Top Expiring Domains automatically selects the very best aged domains available for sale.
It shows the top relevant and strong domains expiring in the next 72 hours for you to buy.
Want to strengthen your PBN (Private Blog Network) with authoritative domains? Top Expiring Domains makes finding aged domains with good metrics easy. Build high-quality backlinks and boost your search engine rankings in a safe and sustainable way.
If you are looking for a new project domain, starting a new blog or a niche website, an aged domain can save you months of hard work and lots of money!
Each domain includes Moz and Majestic metrics, its age, price, the number of inbound links, social signals, trust ratio and more.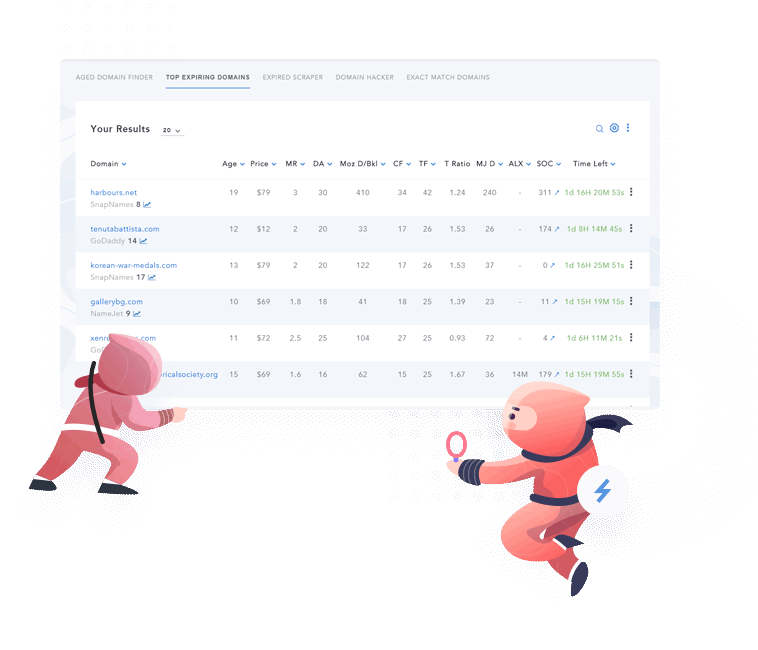 The tool can even notify you via email when new expiring domains that meet your criteria get added to the list.
Find aged domains with backlinks from the most popular and trusted sites
Expired Scraper is a robust yet easy-to-use scraping tool for finding expired domains with backlinks from the world's top sites.
This tool works great whether you are looking for domains to add to your PBN (Private Blog Network) or for any new project.
With Expired Scraper, all you need to do is to enter the URL of a popular and/or trusted site. The tool then shows you a list of expired domains linked by that site. Incredible right?
You can even browse through a list of top sites by country and category. The system shows a complete list of expired and hence available domains the popular site links to.
All discovered domains come with a detailed profile, from Majestic and Moz metrics to social signals and inbound links.
All the domains found and not bought get added to the public list 72 hours later, giving everyone an opportunity to uncover high quality expired domains without spending additional search credits.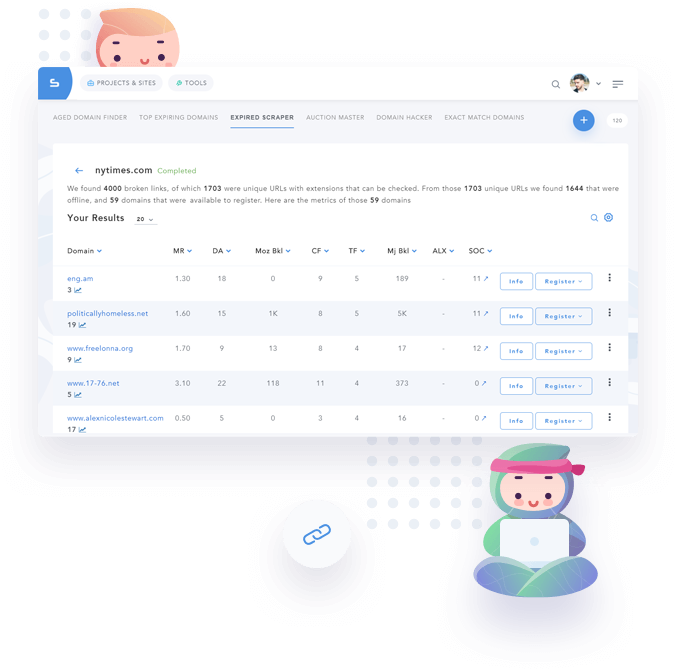 Choose from the best websites and domains on auction
Looking to buy an established site or a domain for your PBN (Private Blog Network) or new project?
Auction Master connects to the most popular auction platforms and helps you find the best websites currently for sale.
The tool visits the top marketplaces, finds all the sites and domains on auction and lists them all in a single place, alongside detailed metrics for each domain.
You can even set up filters to receive email alerts when new sites or domains that meet your criteria get added to the list.
Auction Master is a great way to find turnkey sites and domains few people know of.
Auction Master connects to:
Flippa
Digital Point
Freemarket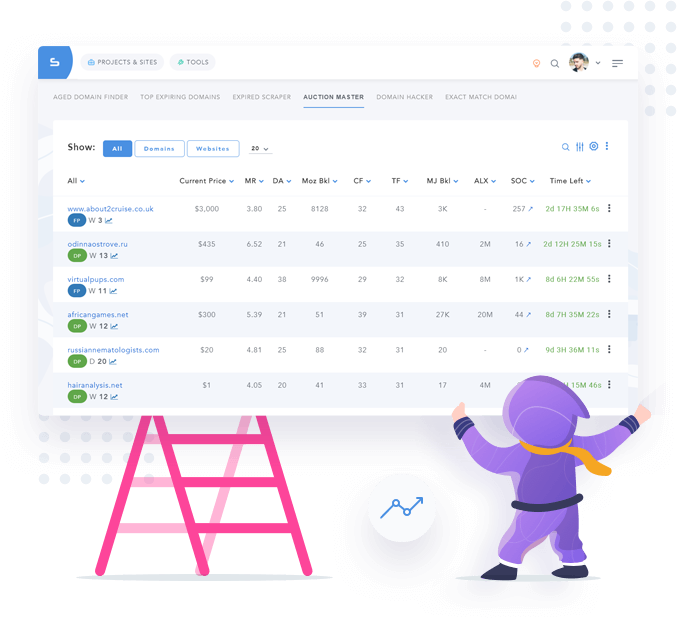 Auction Master skyrockets your productivity and saves you tens of hours of manual work. It offers an unfair advantage by automatically compiling everything in one place.
Find domains in over 120 TLDs no one ever thought of registering
All the best domains are already taken, or are they?
Domain Hacker helps you find your ideal domain, in seconds by checking over 120 TLDs across multiple domain registrars. Find your awesome domain without the frustrating process of looking for an awesome domain.
Enter a few words to Domain Hacker and let it find your ideal domain in seconds.
If the .com domain is not available, Domain Hacker recommends hundreds of alternative TLDs such as .co, .io, .me and more.
Domain Hacker even breaks up your suggested words and recommends alternative domains.
For example, if you enter 'cornflakes' as a word, it will suggest cornflakes.com, cornflakes.net, cornflakes.org and many other TLDs. It will also suggest cornflak.es, corn.flakes.com, cor.nflakes.com, co.rnflakes.com and so on.
Finding a suitable domain for your next big thing was never this easy.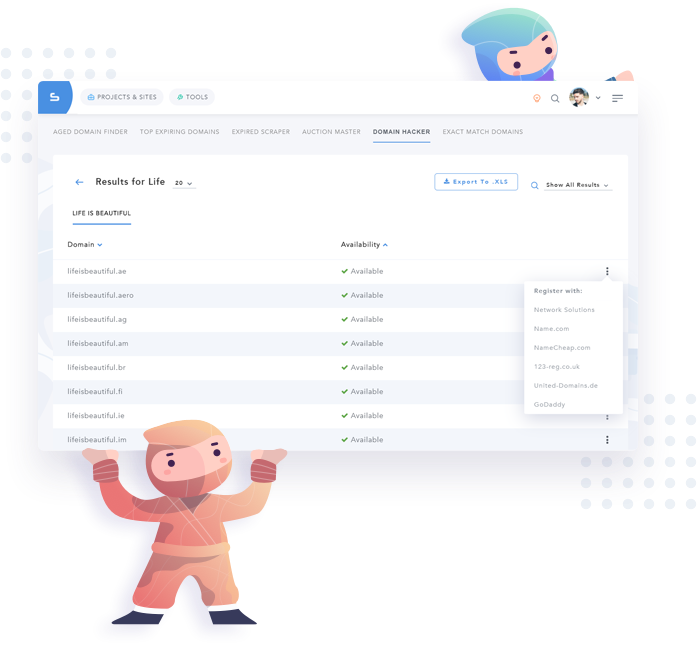 Find available exact match domains and check search volumes without hassle
Exact Match Domains, as the name suggests, helps you find the best domain that exactly matches your query.
Although in recent years the SEO significance of exact match domains has fallen, it is still considered a ranking factor, especially for local businesses.
Finding your domain couldn't be easier with our tool. On the search form, you can select your target country and get access to a list of cities and states without manual data entry.
For example, for the word 'plumber' the tool auto-populates a list with over 200 cities in your target the country.
The system will then check whether plumbernewyork.com, plumbernewyork.net, plumbernewyork.org and so on are available and offer additional data points, such as keyword search volumes for each.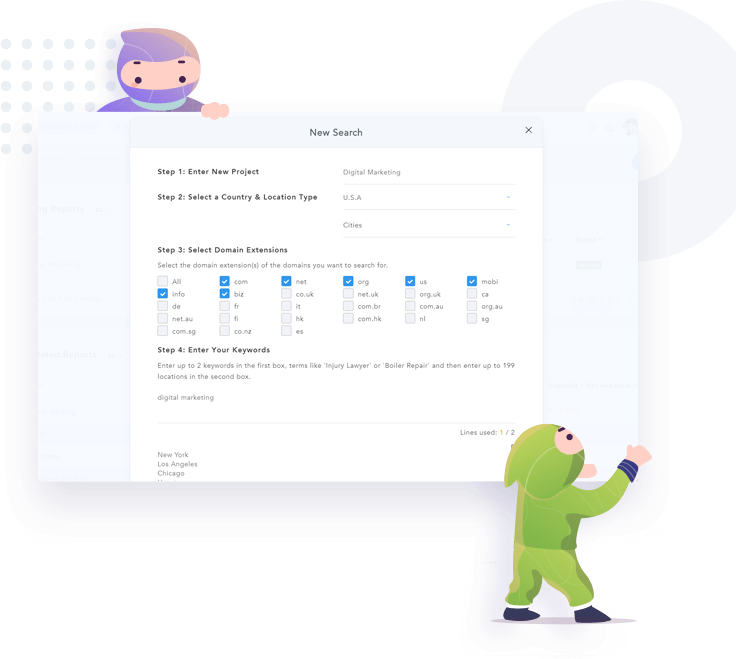 Many of our members use this tool to find popular local domains for their area. They build sites, rank them and then rent or even sell them to local businesses as a stream of recurring revenue.