All-In-One SEO Suite For Agencies
Over 40 Powerful SEO Tools
Team & Client Management Solutions
Real-Time Reporting
White-Label Client Dashboards
Over 40 Powerful SEO Tools
With SERPed, you can fully manage SEO projects for your clients, as well as collaborate with your co-workers for increased productivity.
Keyword Research
Competitor Analysis
Link Analysis
SEO Analysis
White-Label SEO Audits
Project Management
Link Management
Web Analytics
Uptime Monitoring
Rank Tracking
Social Tracking
Client Acquisition
White-Label SEO Reports
Team Management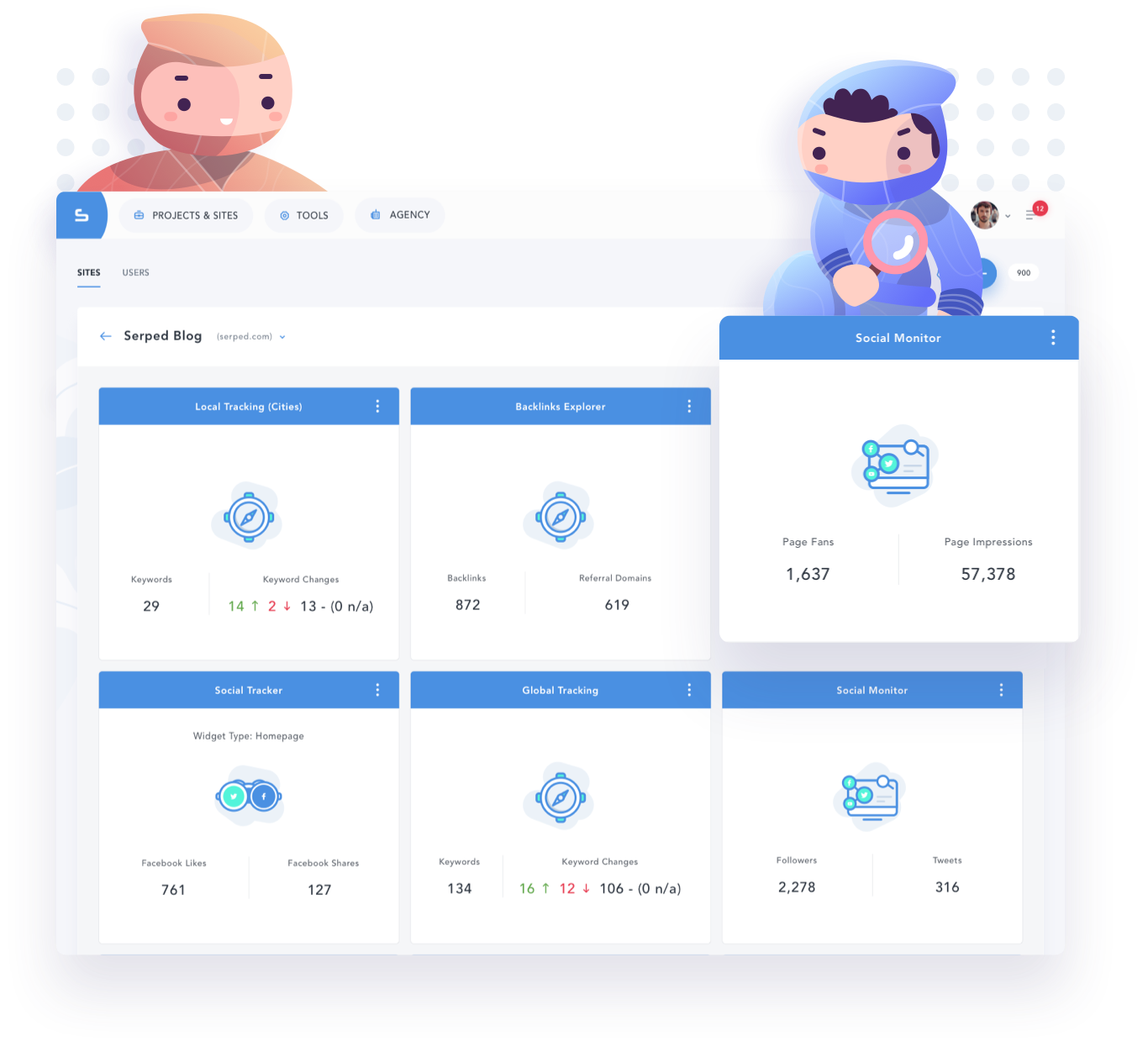 Special "SERPed Agency" Package
With "SERPed Agency", you can allow clients to access to their own dashboard which includes real-time information and insights about their site. Show your clients the results you have achieved, including their metrics, number of backlinks, search engine rankings, web traffic and more. Client portals are white-labeled and customizable, you can place your own logo and choose which widgets to show.
➡
Build a Client Dashboard (White-Label)
Upload your logo, choose between a wide variety of widgets and create login details for your client. You can choose precisely what they have access to.
➡
Share Access With Your Client
Create and share login details with your client so they can connect to the dashboard and access real-time metrics, rankings and other insightful data about their project.
Learn More About SERPed Agency
SERPed already helps thousands of SEO agencies like yours develop strategies, run campaigns, manage projects, generate reports, keep in touch with clients, find new leads and grow their business. It is an affordable yet industry leading suite of tools for experienced SEO professionals.
I get pitched endless amounts of new tools all the time, everyone think they have built the best SEO tools and it's very rare that one catches my eye. When Colin reached he had me hooked on his suite on ninja SEO tools! You can complete niche research, competition analysis, download your competitors backlinks, find location citations, search for expired domains, see what keywords your site currently ranks for, monitor uptime, build custom reports... Heck it even has some seriously powerful SEO client acquisition tools that I'm using with my own agency. There really are too many features to list...