In-depth analysis of any domain
Input any website on Site Explorer to uncover detailed data on tens of SEO parameters for that domain.
Site Explorer pulls data from multiple sources, including industry-leading providers Moz and Majestic by directly linking to their API, saving your subscription costs for multiple tools.
Research and analyze backlinks for any website, whether it is your own, a client's or a competitor's website.
With Site Explorer you can segment and analyze backlinks based on multiple parameters, spot backlink opportunities or spam links that need to be disavowed.
The comprehensive analysis includes Moz Rank, Domain Authority, Page Authority, Citation Flow, Trust Flow, and more data points.
Our proprietary SERPed Rank provides you with additional data that indicate the overall quality of a website by combining and analyzing multiple parameters.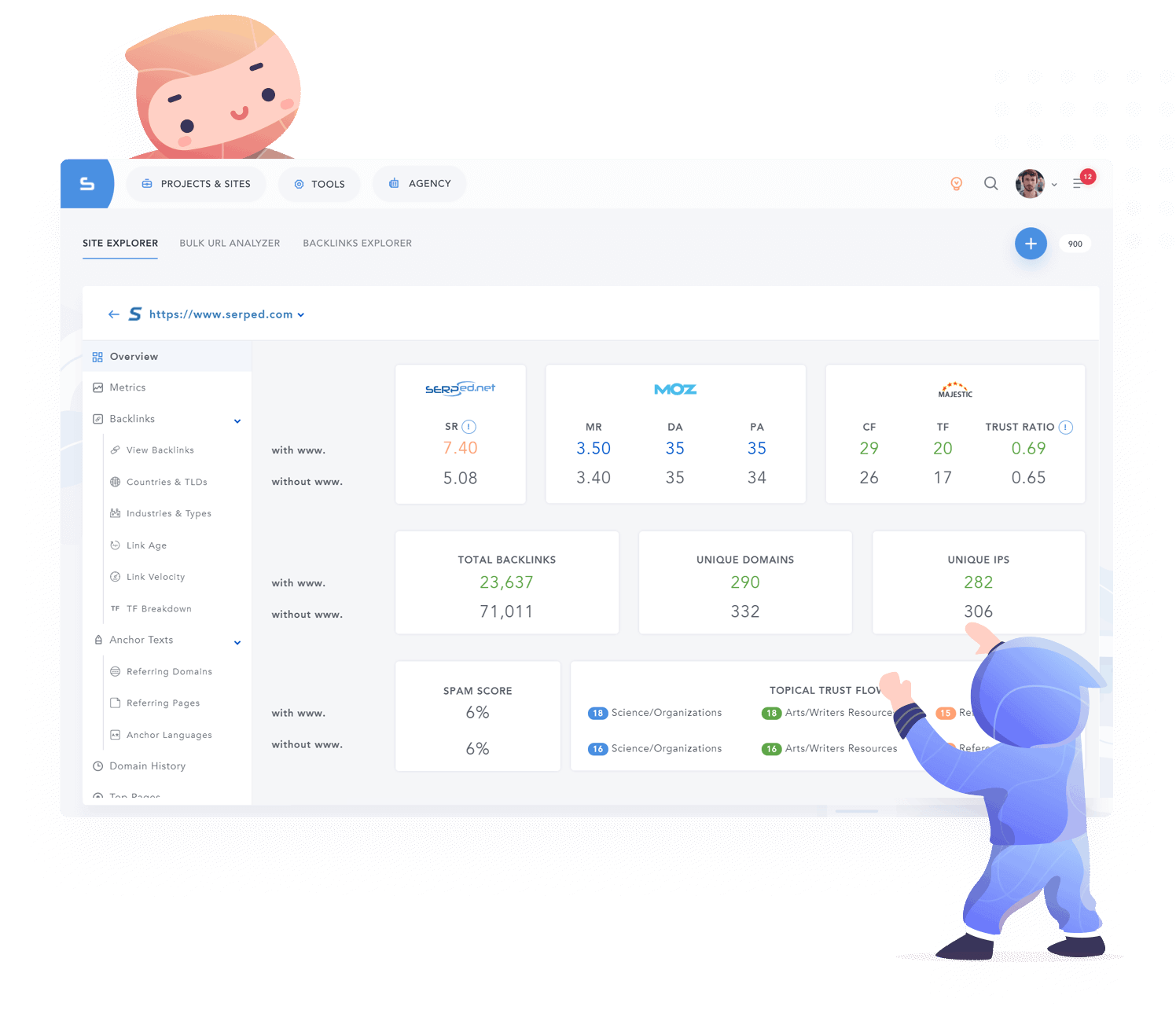 Get metrics and other data from multiple sources in one place:
Moz
Majestic
SERPed
Alexa
Site Explorer is an all-inclusive tool for quickly checking any website's metrics, backlink profile and anchor profile.
Compare the metrics of multiple URLs simultaneously
Bulk URL Analyzer helps you discover, analyze and compare detailed metrics for up to 40 URLs at the same time.
Easily compare your website to your competitors' to uncover why they may rank higher than you in Google and other search engines.
Considering purchasing one or multiple domains? Quickly see which ones are worth investigating further and which ones aren't. Bulk URL Analyzer is a huge time and money saver!
Compare Moz and Majestic metrics, the number of inbound links, the number of referring IPs, the number of social signals, Alexa rank, Google index status, SERPed Rank, domain age and more for each domain.
Get metrics and other data from:
Moz
Majestic
SERPed
Alexa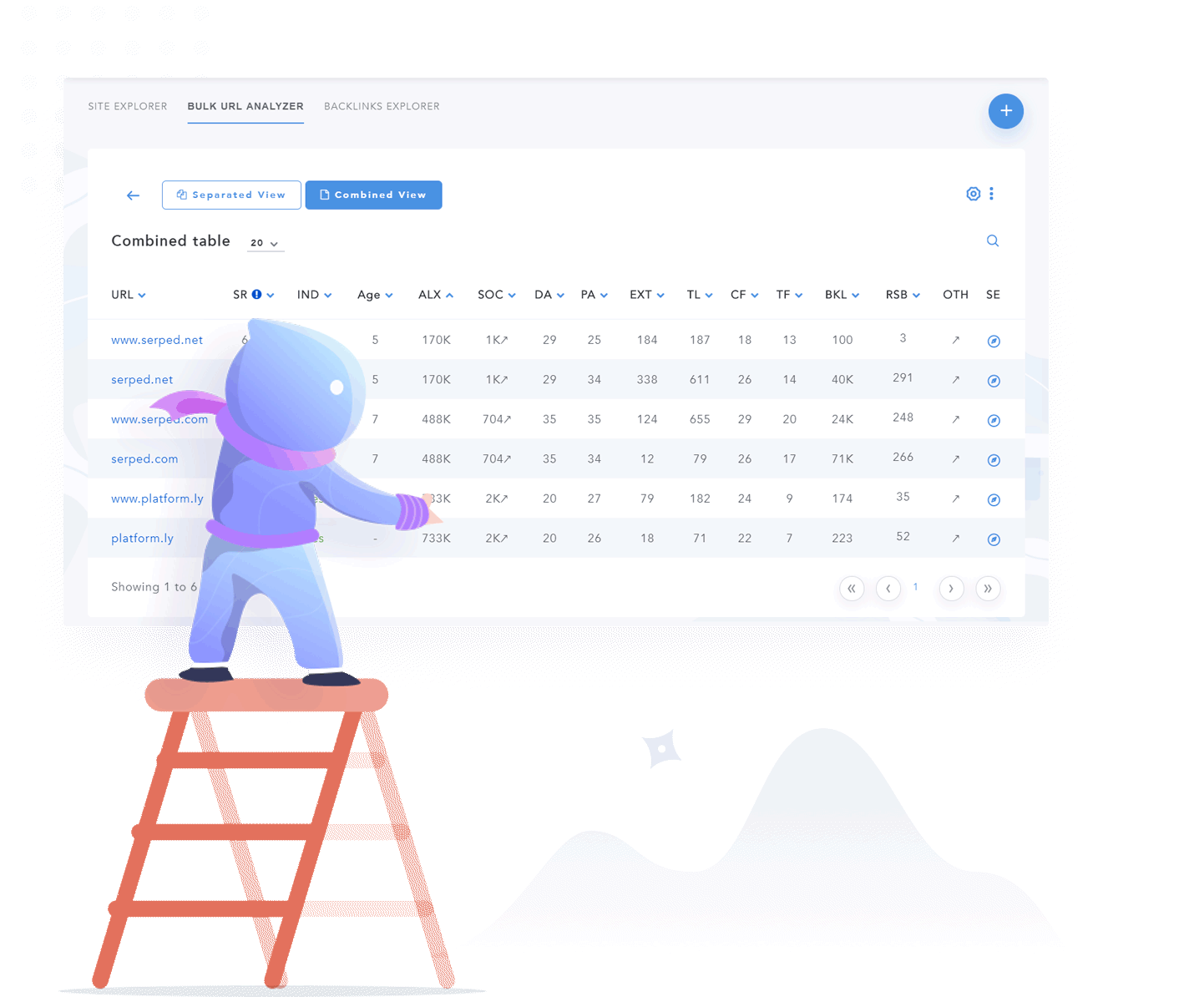 Discover metrics for different variations of the domains for example with www. or without to see which version has more authority.
Bulk URL Analyzer provides you with a wealth of information, in just a few seconds.
Explore the backlink profile of any domain or page
Inbound links are one of the most important SEO ranking factors. With Backlinks Explorer you can discover which websites link to any page or domain with an in-depth backlink analysis.
Backlinks Explorer offers a detailed backlink profile for any domain or page.
For every discovered backlink, it shows multiple SEO parameters, including destination page, anchor text, Citation Flow and Trust Flow of the source page.
It also includes additional parameters such as link type, backlink status, Google index status, referring domain link authority and more.
You can even dive deeper and discover more data points including the age of each domain, IP address of the source site, Alexa rank and number of social signals. You will get breakdowns on SERPed Rank, Page Authority, B-Class IPs, C-Class IPs and link types for example dofollow vs. nofollow.
Whether you want to check your own backlink profile, a competitor or a domain you are considering purchasing, Backlinks Explorer is a must-have.
The total number of backlinks pointing to a website indicate its overall performance but the quality of those backlinks is equally important.
With our tool, this process becomes easy and fast.