Discover profitable keywords for your Google Ads Campaigns and Website Content
The right keywords are the first step to any profitable Google Ads campaign or high ranking website.
Our keyword research tools make it easy to discover the least competitive, most profitable keywords in your industry.
By directly connecting with Google's API we ensure data is always up to date offering you hidden ranking opportunities and high ROI keywords for your search campaigns.
All you need to do is enter one or several relevant to your industry keywords and pick your target language and country as a starting point.
Ultimate Research returns hundreds of relevant results alongside detailed data points for each keyword.
Keyword results are filterable based on search volume, cost per click, traffic value, PPC competition and much more.
Ultimate Research even allows you to search for related domains, as well as relevant long tail keywords, in a few clicks.
Our unique revenue calculator offers a good estimate on your monthly site visitors, sales and AdSense revenue.
Let our comprehensive tool help you save hours of tedious research, offer better service to your clients and increase profitability.
Uncover the keywords any site ranks for, instantly
Looking for a quick and easy way to check your rankings as well as to uncover the rankings of your competitors?
What Ranks Where analyzes the top 100 Google results (organic and paid) and shows what keywords or phrases any site ranks for.
Outsmart your competition, discover weak points in their keyword strategy and outrank them. Identify which paid keywords they invest in most and their highest ranking pages.
What Ranks Where gives precise ranking data with any website's current ranking position and traffic estimation.
Gain an unfair competitive advantage, dive even deeper with search volume data, PPC cost, ranking changes, search trends and more.
What Ranks Where is one of our most popular tools. It can help you discover content topics, optimize existing content for higher rankings or reveal your competition's best-kept secrets.
SEO doesn't have to be complicated, time-consuming or expensive. What Ranks Where makes what used to be a complex process, simple, easy and intuitive.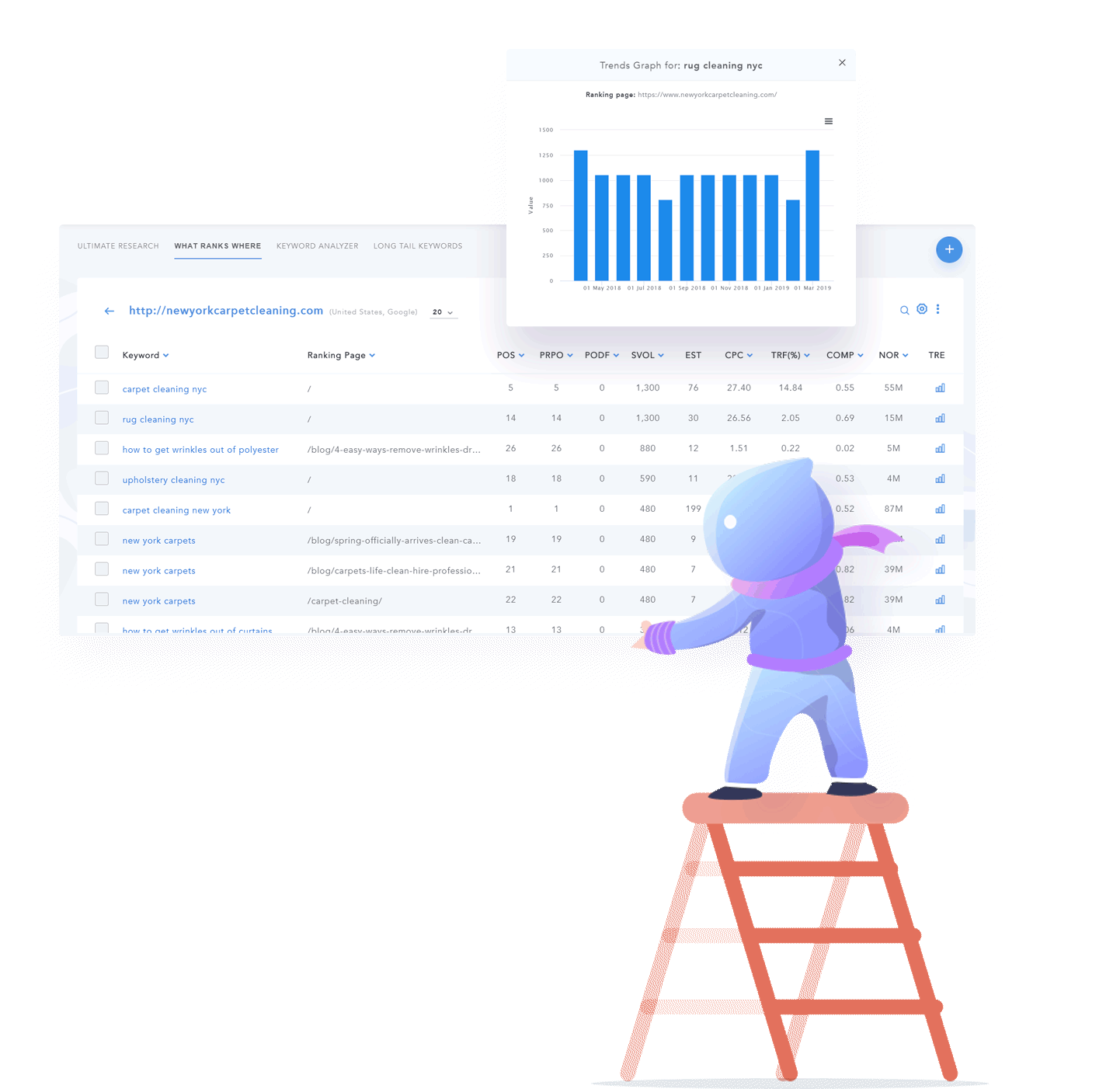 Learn why your competitors rank high and what you need to do to outrank them
Quickly find who your top competitors are, what factors influence their Google rankings and what you need to do to outrank them.
Keyword Analyzer helps you find keywords you can rank for as well as keywords you should avoid.
Each analyzed keyword shows detailed search volume, cost per click, search volume trends, PPC competition, and related searches data.
Keyword Analyzer offers additional data, including Moz and Majestic metrics, the number of inbound links, domain age and social signals for the top 10 search results.
Our proprietary competition score indicates how easy (or hard) it would be to rank for the analyzed keyword.
Knowing the ranking potential of a keyword will save time and money by helping you craft a winning strategy for higher rankings.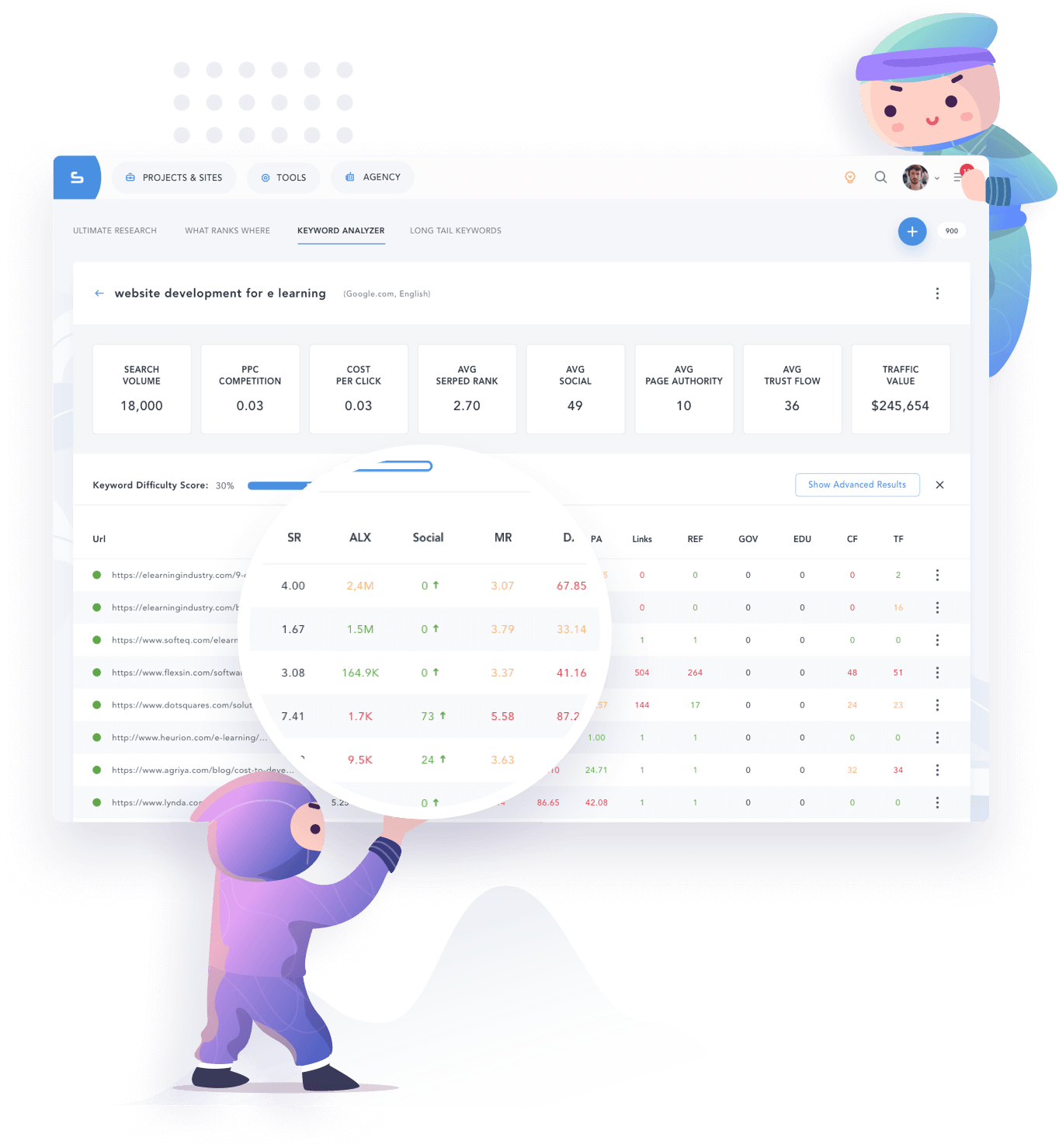 Effortlessly discover hidden, untapped long tail keywords
The level of competition for long tail keywords is lower, making it easier to rank for them.
Often, they are more targeted, more people are likely to click your website in the search results, engage with your content, click your ads and buy from you.
With a few clicks, our Long Tail Keywords tool helps you find hundreds, if not thousands of hidden, untapped keywords by searching multiple databases including Google, Bing, YouTube, Amazon, and eBay.
Discover the search volume, cost per click, traffic value, pay-per-click competition, search volume trends, related searches and available domains for each keyword.
Results can also be filtered down and exported in TXT or CSV file formats for later use.
Over 15% of the searches performed daily in Google have never been typed before. With our tool, you can be the first to uncover and rank for those queries.