Get your backlinks indexed in Google faster
Link Indexer is a link indexing solution that helps you get your backlinks indexed faster. Your links get added to SERPed Indexer, which uses third-party link indexing services to accelerate the process.
You don't need to subscribe to any services, we use our own accounts to submit your links at no extra cost. Simply add your URLs to Link Indexer and the tool will handle the rest.
Backlinks Indexer subscribers can add their own API key and submit backlinks to those services inside the Link Indexer interface with no limitations.
To check the index status of your backlinks, you can use Index Checker.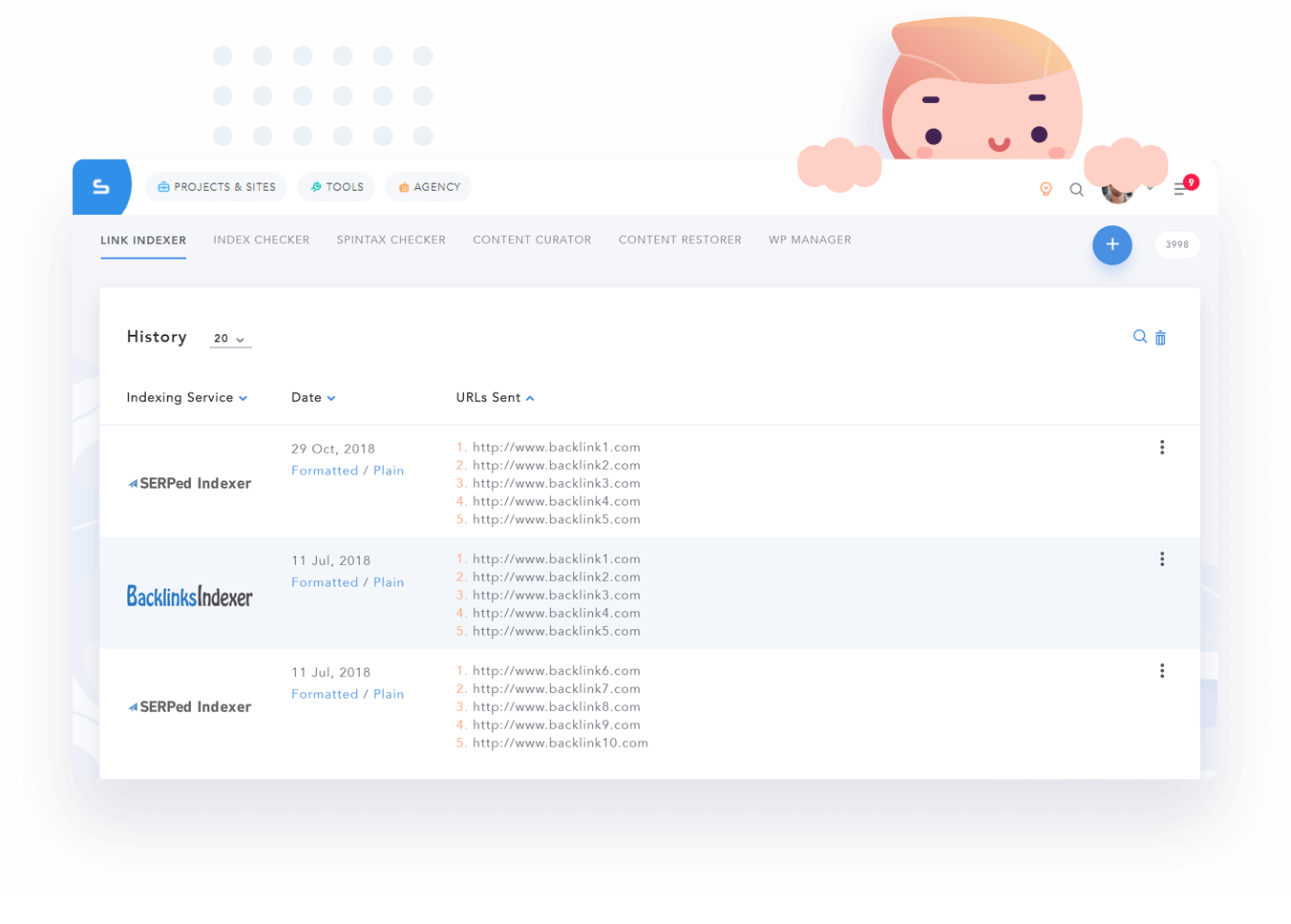 Check the Google index status for your URLs
Discover whether your latest blog posts or backlinks are indexed in Google.
Doing it yourself poses many risks, including your IP address being blocked by Google. Index Checker uses a proxy-based system so you can instantly check up to 100 URLs at once or 1000s in minutes, with minimal work required from you.
Once you received the results, you will be able to resend the unindexed URLs to Link Indexer with the push of a button.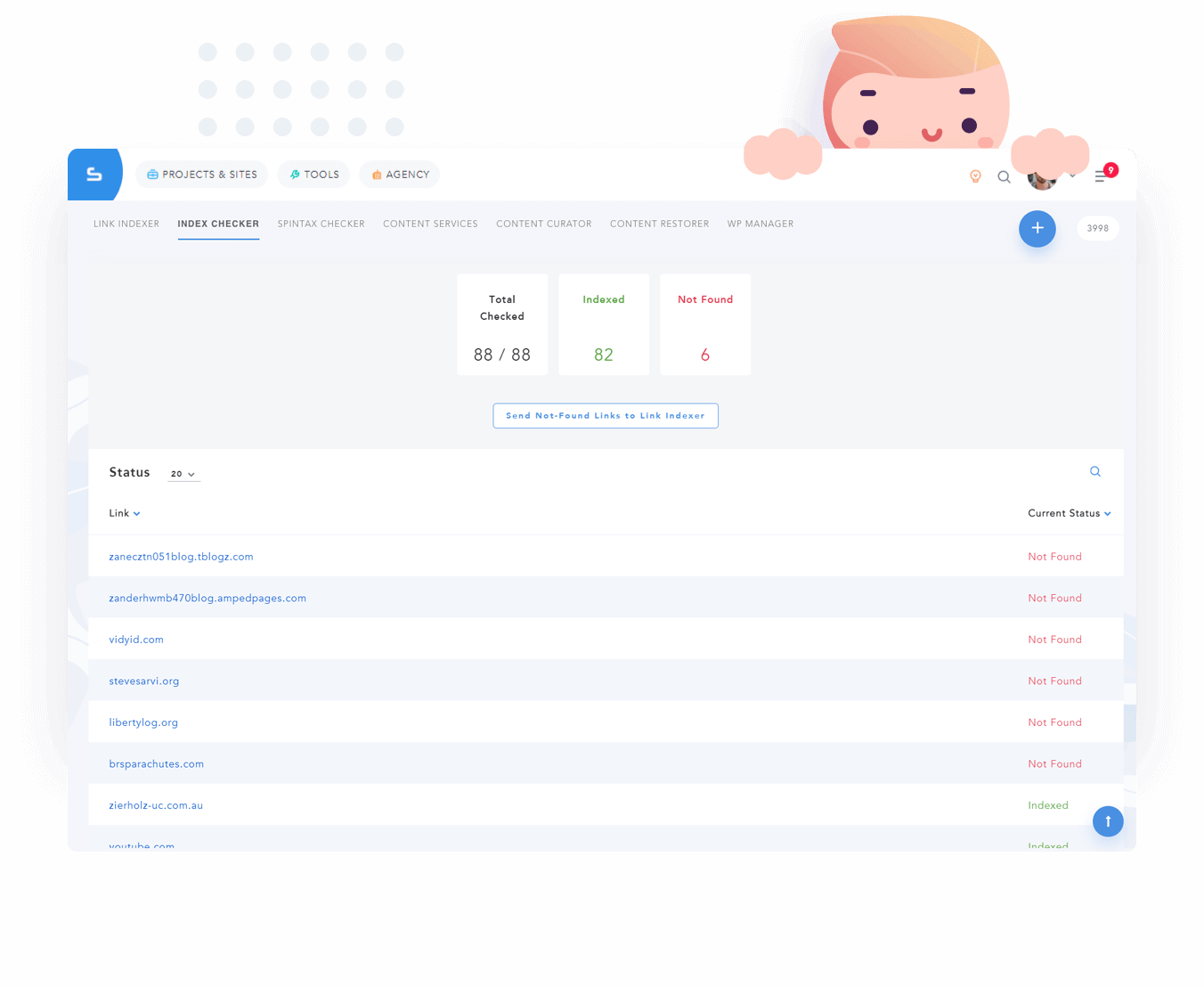 Automatically publish unique, curated content to your site or blog
Content Curator, helps you consistently publish fresh content to your blogs. Simply enter a topic and the system will scrap and spin content that is unique each time.
Content Curator is also a content automation solution which can publish content to your WordPress website without any manual input.
The content passes Copyscape and is unique for Google but if you want, you can choose to edit the posts before publishing.
Content Curator is a great time-saver if you aren't sure what to write about.
According to many experts, fresh content is an important ranking factor in Google's search algorithm.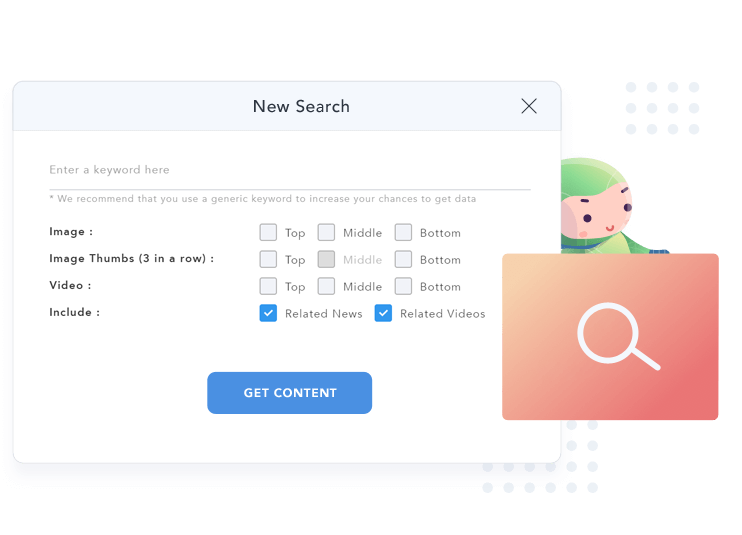 Content Curator is the quickest and easiest way to get unique content with images and videos published to your site or blog.
Restore old websites in just a few clicks and save yourself hours of work
When buying expired domains, you have two options. You can either build a new site or blog from scratch, or you can restore the site as it was in its previous condition!
You didn't know that was possible, did you?
Have a fully developed website in minutes instead of spending hours setting up a new one from scratch.
Content Restorer browses the Internet archive for different versions of (almost) any site. You can then download the files as a ZIP file, upload it to your host, unzip it and enjoy a fully developed website.
Content Restorer is by far the easiest, most affordable way to restore the content of any site, whether it's for an expired domain or a lost site.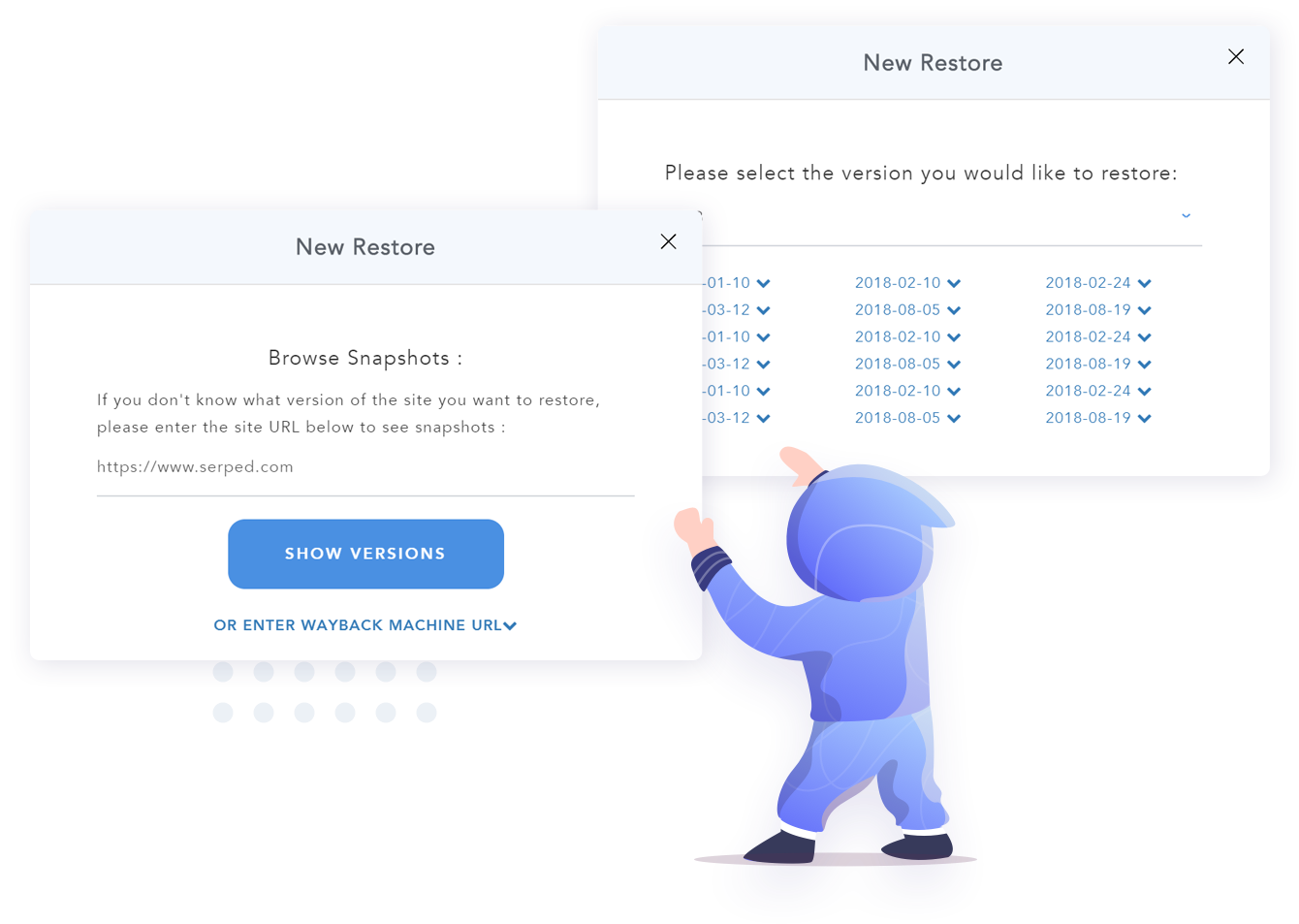 Our main competitor charges $15 per restoration but with our suite, it's all included in your membership!
Update WordPress, themes and plugins in bulk, from a centralized interface
Using an outdated version of WordPress puts you at risk of being targeted by hackers and malicious attacks. The same goes for outdated themes and plugins...
For example, an outdated theme or plugin could be used by hackers to run malicious code or serve unwanted ads. This is unfortunately pretty common and poses a significant security threat to your business.
It is thus essential to always have the latest versions installed. However, updating WordPress, themes and plugins can be time-consuming... You need to log into each of your WordPress sites and update everything one by one... and repeat the process as soon as a new version is available.
That's why we created WordPress Manager, a centralized interface that connects to your WordPress sites via our plugin (which comes with plenty of other cool features) and allows you to easily update everything in a single click, without having to log into WordPress.
A must-have for anyone with multiple WordPress sites!