All important website information in one beautiful fully customizable PDF report
Our report builder helps you easily create stunning and informative PDF reports for your own or client projects. SERPed connects with all the key data sources and allows you to compile complex multi-source reports in just a few clicks.
SERPed helps you to maximize the impact of your reports by using your own branding. Create complete and comprehensive site reports and present data from multiple internal and external sources, including Moz and Majestic.
All you need to do is choose the information you want to include (metrics, backlinks, rankings and more), build the report and customize it to meet your requirements.
Site Reports can be saved as templates to simplify future reporting, they are truly "set in and forget it". SERPed does all the heavy lifting so you can consistently exceed your clients' expectations with minimal effort.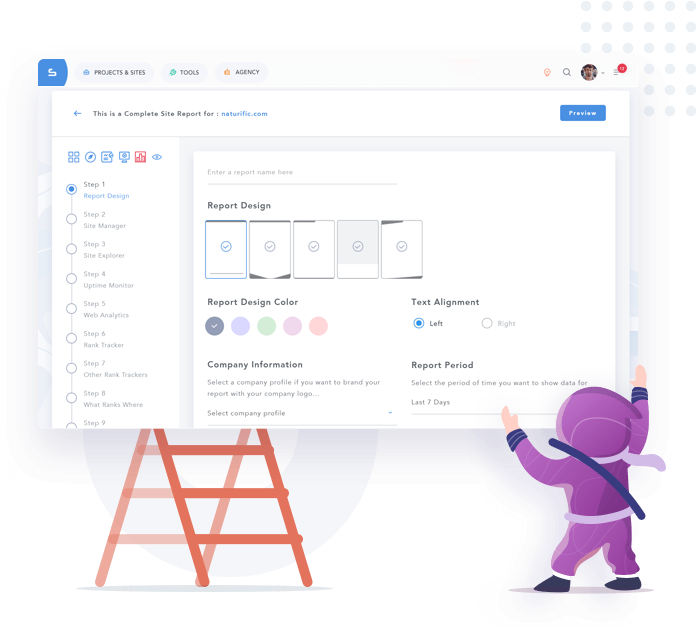 Never miss a beat
Stay on top of your personal and client projects with automatic notifications and email alerts about important events.
SERPed constantly works for you and automatically lets you know when changes happen to any of your projects. For example, whenever a new backlink is discovered or lost SERPed will let you know almost instantly.
All your rankings are also monitored so when there are changes to the positions your website ranks for a keyword SERPed will notify you nearly in real time.
By knowing on time when an important event occurs you will be able to be proactive and plan your strategy accordingly to minimize negative and amplify positive effects.