The ultimate SEO project management solution
Site Manager is an all-in-one solution for effortlessly managing all your websites and blogs.
Keep all your personal or client projects organized and track everything related to them from one single interface.
All important information, such as backlinks, search rankings and more are available and constantly updated in your project tab.
Site Manager is a robust tool that includes detailed and in-depth information about everything SEO related to your projects.
You can track up to 3 of your competitors for each site and see how you compare with them at any given time.
Site Manager generates an in-depth SEO audit of your site with recommendations on how to fix any issues that are hurting your search engine ranking.
SEO project management
SEO metrics and other data
Backlink profiles
Competition analysis
SEO audits
…all in one place.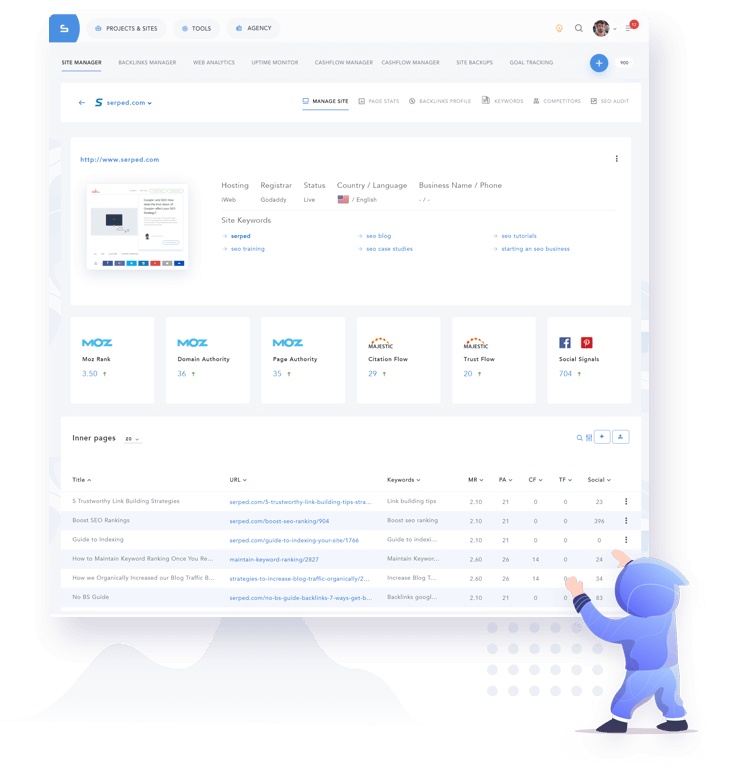 Site Manager automates many previously time-consuming processes. It is an essential tool for seasoned SEO professionals managing multiple projects and SEO beginners alike.
Monitor your backlinks and stay ahead of unexpected changes
Backlinks Manager is a powerful tool that helps you gain a holistic picture of your websites backlink profile across multiple search engines.
Backlinks Manager can automatically discover your backlinks or they can be manually imported via CSV.
The system will then build a detailed report about each of the inbound links. You will see which page in your site they point to, whether they are active, indexed in Google, dofollow or nofollow, Moz and Majestic metrics.
Backlinks Manager also shows the number of backlinks, the number of social signals, country of origin, link type and other relevant data to help you understand your backlinks and craft a successful strategy.
It automatically updates all data regularly and if a problem arises the system can alert you, allowing you to fix it on time.
Backlinks Manager automates processes that would be nearly impossible to perform manually, especially when managing multiple sites.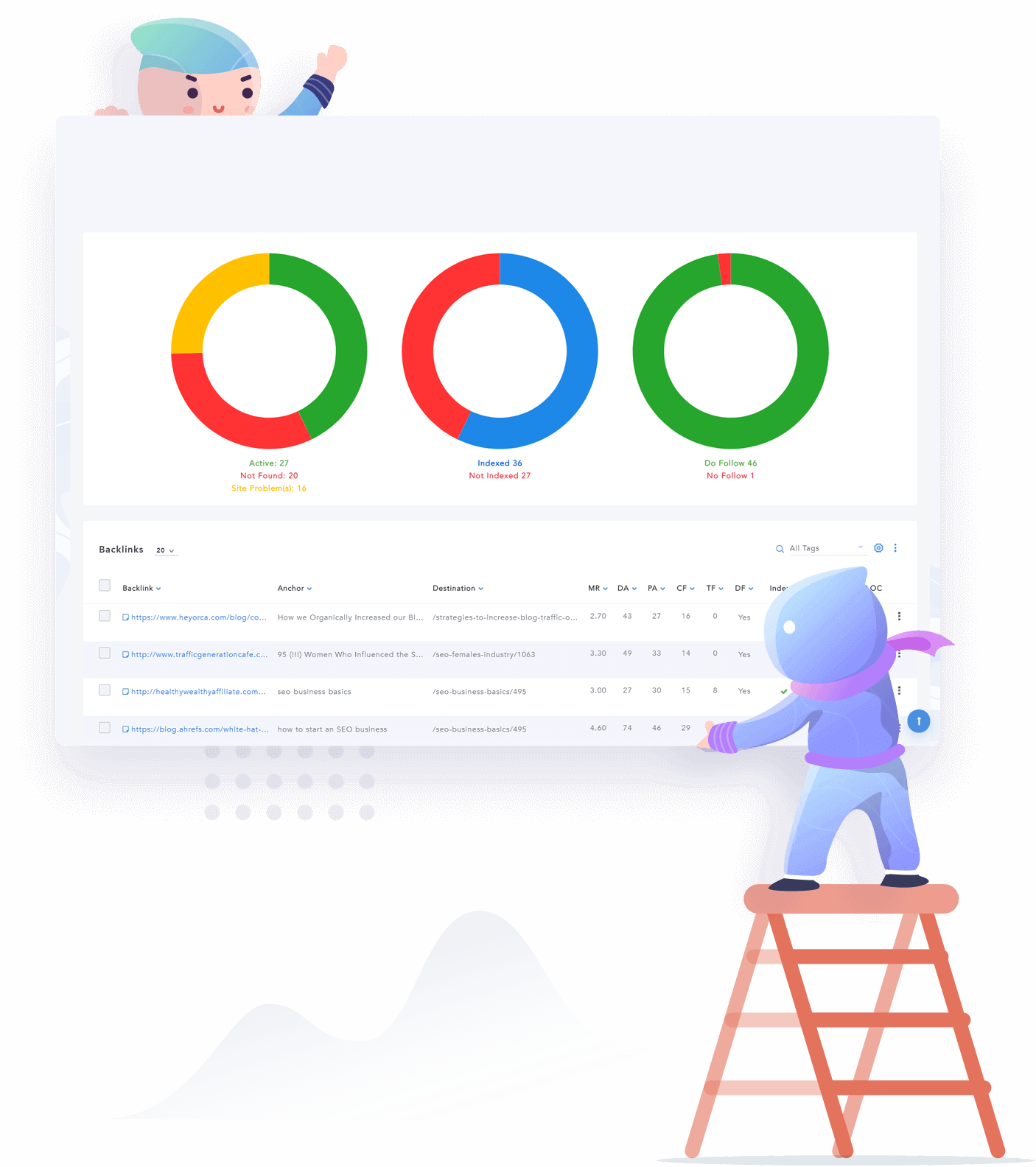 Track your traffic and get insights about your visitors (with or without Google Analytics)
This web analytics solution gives you insightful information about your website's traffic: where your visitors come from, where they are located, how long they stay on your site and much more.
If you do not want to add Google Analytics on your website or want an additional source of traffic information, Web Analytics is a robust option for understanding your website visitors.
Installing Web Analytics to your site is easy, even if you don't have any coding experience. Simply add our code snippet to your website or through our plugin for WordPress users.
Web Analytics will receive data shortly after the code is added and you can then create and export detailed traffic analytics reports.
Our analytics tool is also fully compatible with Google Analytics. You can embed the Google Analytics code into your site and seamlessly access data generated by Google inside Web Analytics!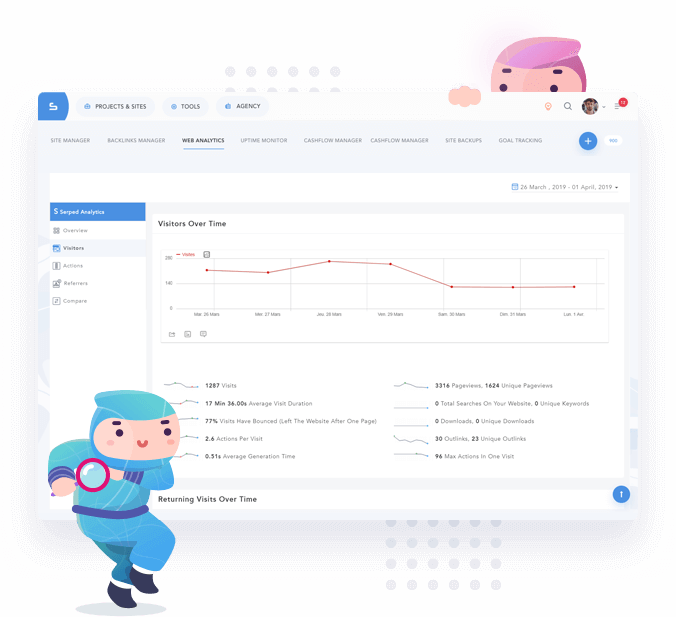 Constantly monitor your website's uptime and response time
Uptime Monitor constantly tracks your website with multiple signals and notifies you when one of your sites is unreachable by visitors.
A website that consistently fails to load, due to server failure or other issues not only makes for poor user experience but can also negatively affect your search engine rankings.
The downtime of a website can have a long-lasting negative effect, with visitors leaving your site and never returning, lost revenue and lower rankings.
Downtime reports can be generated with a click and you can then send it to your client or hosting provider.
Uptime Monitor is included as standard on your plan, saving you from investing in other expensive software and eliminating the need for switching between tools.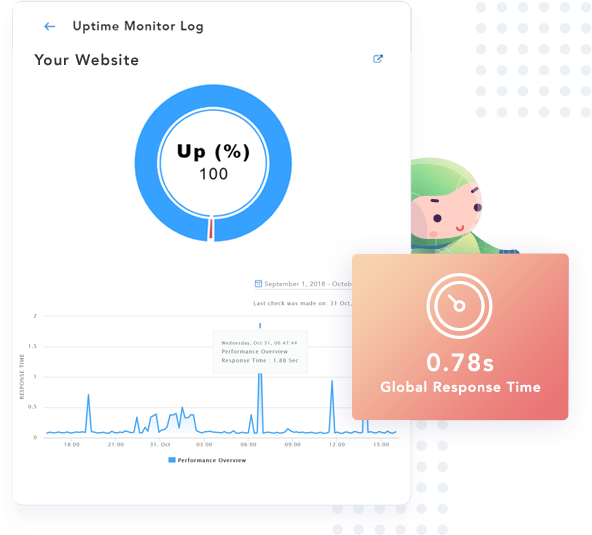 Effortlessly track and manage all of your projects finances
Cashflow Manager helps you stay up to date with your business's financial performance and accounting without spending hours doing it.
All financial records, income, expenses, assets, debts and more are always kept up to date giving you a full picture of your business and helping you stay compliant with financial regulations.
All payments and expenses are added to the system with just a few clicks and showcased in easy-to-understand tables and graphs. Detailed reports and statements are easy to generate and export in various formats such as CSV or PDF.
Without the complexities of full accounting, Cashflow Manager allows you to quickly see where you should focus and where you might need to cut your losses for your projects.
The biggest killer of businesses is the lack of cash-flow. Don't be another victim. Know exactly what is going on with each client and project, in a simple overview!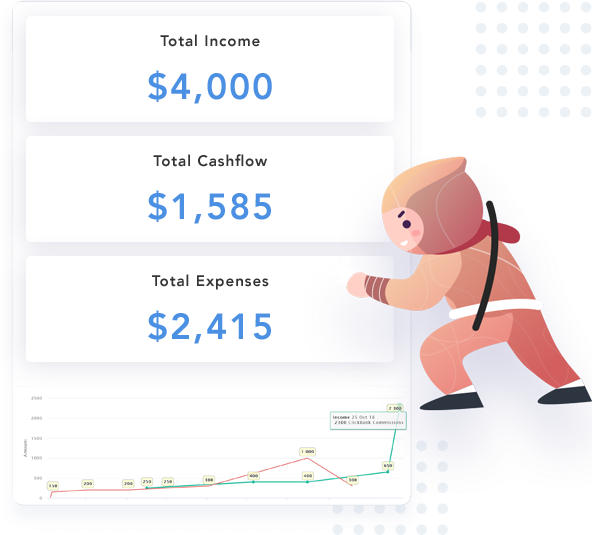 Analyze your website's internal link profile and uncover errors
Site Crawler crawls any website and builds a detailed internal link profile, uncovering potential errors.
Discover which pages link where, uncover dead links, HTTP errors, the anchor profile and more for all your website's inner links.
Inbound links are very important but internal links play a significant role as well and play in search rankings.